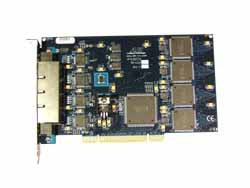 P430TX
Legacy PCI 10/100 Quad Fast Ethernet Card
32/64-bit, 33 MHz
THIS PRODUCT HAS BEEN REPLACED BY THE AEI-P430C.
Product is retired. Minimum 100 board order. Recommend cross to AEI-P430C


Specification Sheet (pdf)

AEI Intelligent Technologies' Quad Fast Ethernet (QFE) card (P430TX) is based on the "Legacy" Intel 21143-TD chipset. This means the device driver is embedded into many operating systems. It is fully plug and play supported in all Windows and Linux operating systems. As a developer and partner of several UNIX-based OEMs, the AEI solution includes our own device drivers for FreeBSD, OpenBSD, Solaris (x86 & SPARC), HP-UX (PA-RISC), and other high-end platforms.
Firewalls and application servers on Fast Ethernet networks can now get the bandwidth they need with the P430TX Quadport PCI network interface card. This high-performance card can support four separate 10/100 Mbps copper network segments at full bandwidth. With PacketEngine software, all four ports can be aggregated into a single logical link with bandwidth up to 800 Mbps full-duplex. The P430TX supports active failover to redundant server links so that critical application server connections can be maintained at all times (in milliseconds).
Unlike many "server class" adapters on the market today, the P430TX was designed for cross platform, closed architecture support. This means additional noise impedance was engineered into the board. The P430TX has a clean design, high precision oscillator, integrated magnetics, high-end surface mount discrete components, and additional filtering. The cumulative effect is a card that is high performance, highly reliable, and fault tolerant... and a much higher return on investment when compared to the competition.
Although the P430TX is a 32-bit card, several OEM clients have commented as to its ability to outperform many competitors' 64-bit cards. These performance characteristics, combined with its relative low price has many Firewall OEMs switching to AEI.
The P430TX is fully interoperable with existing Ethernet hubs, switches and routers. AEI Fast Ethernet cards provided increased bandwidth for event the most congested network.
Advanced Server Features - with every adapter comes AEI's PacketEngine Software suite. PacketEngine allows users to configure trunk groups based on the Physical Layer 1 (Port aggregation), as well as Layer 3 and Layer 4 criteria. A user friendly Graphical User Interface (GUI) provides for Active Port Failover (all ports in the failover group Tx/Rx packets) Windows, Linux, Solaris, and other popular operating systems. Finally Adaptive or Dynamic Load Balancing is provided. Please, call 909-296-2022 for available OS and revision support.
Features
Checkpoint Certified.

Consolidate multiple server ports onto a single card

Cross Platform Support for all popular server platforms.

Reduces Server Overhead.

Easy to install and configure.

Half or Full Duplex operation.

Dual speed 10Mbps (10Base-T) or 100 Mbps (100Base-Tx)

Maximum throughput is 800Mbps.

Trunking, Failover, and Dynamic Load Balancing at no additional cost.

DMA Bus Mastering for lower CPU utilization.

Universal Short Card form factor.

Compatible with Cisco's EtherChannel, Sun Trunking and all industry standard trunking algorithms.

Two independent Fast Ethernet controllers for added redundancy and fault tolerance.
Applications
Firewalls and other Internet security appliances.

Proxy, application, file, and print servers.

SOHO to Enterprise network environments.

Internet Service Providers / Web Hosting

Storage Area Networks (SAN)

Network Attached Storage (NAS)

Network segmentation (for network security purposes)

Gateways and routers.
Specifications
Configurations

P430TX.. PCI 10/100 Quad Fast Ethernet NIC.

Connector
Quad RJ-45(f)
10/100Base-Tx with integrated magnetics
IEEE Standards
IEEE 802.3 (10Base-T Ethernet)
IEEE 802.3u (100Base-Tx Ethernet)
IEEE 802.3ad (Port Aggregation)
802.1Q (VLAN)
802.1x (Flow Control)

Fast EtherChannel (FEC) supported.

Speeds
10Base-T (Up to 20Mbps)
100Base-Tx ( Up to 200 Mbps)
Duplex
Half or Full Duplex operation capable.

Auto-negotiation / NWay

Auto-negotiation between Full duplex and simplex operations AND between 10 Mbps and 100 Mbps

Data transfer Mode
DMA Bus Mastering
LEDs
Link, Activity, and Speed
Slot Type
32/64-bit, 33MHz
3.3V or 5V slot
Universal short card
Bus Type
PCI 2.1 & 2.2 compliant, compatible with PCI-X slots
Parallel Detection
Yes
Driver Support
Certifications
FCC Part 15, Subpart B - Class A; CE; CISPR-22-A; CISPR-22-B, VCCI-A; CSA 22.2 No. 950-95; and CE compliant to: EN55024, EN50082-1, EN60950
Environment Specs
Temperature: operating 0C to 50C
Humidity: 0 to 95% non-condensing
Dimensions
6.8" (L) x 4.2" (H)
Universal Short Card
Power Consumption

Operating Voltage: 3.3VDC/5VDC

Consumption: 1.6W