AEI-e810C
AEI-e810C-PoE
PCI Express (x1 slot)
8+1 Embedded Switch
For Industrial PC's & Server Applications
IEEE 802.3af (PoE) Compliant


Related Products:
AEI-e410C-PoE (4+1 Embedded Switch)
Compatible with x1, x4, x8 and x16 PCI-e slots!

IEEE 802.3af (PoE)
Power sourced from external AC/DC wall power adapter cable, or we can modify to support a 48VDC input via internal wire harness. Next revision will include circuitry to source PoE power from host system Power Supply Unit (PSU).

Each LAN port supports both PoE and Non-PoE connections
(Auto Detect & Classification)

OEMs can offer end-users a proprietary fully integrated PoE compatible solution.

Offers a much cleaner installation without added cables, injectors & switches.

Provides for a much simpler installation reducing service calls.

Multiple Cards per system - ok!

Scalability - Allows OEMs to offer customers an upgrade path for additional PoE ports.

AEI Fault Tolerant Utility included at no charge!
Network Device and Node Monitoring, Fault Notification (pop-up, email & text), and PoE Advanced Power Management. Allows Service Providers to be responsive, rather than reactive to customer needs.

Not Just A Switch...
The AEI-e810C supports IEEE 802.3af (PoE). More importantly, it incorporates patent pending technology that monitors network connectivity on user-defined network clients; or IP Devices such as IP Cameras, VoIP Phones, wireless links, etc. When network connectivity fails it notifies one or more recipients via email. Quite simply, the functionality offers users unparalleled network fault tolerance and network fault notification!
- - - - -
AEI Intelligent Technologies' AEI-e810C is a flexible and high performance embedded Physical Layer switch providing eight (8) exterior Fast Ethernet ports, plus an independent 1000Base-T internal Gigabit uplink to the host system's PCIe bus through the card edge connector.

Installation is a snap. Users only install one Gigabit Ethernet device driver, which is plug and play in most operating systems; and supports a wide variety of architectures.
The eight Fast Ethernet ports are controlled independent of the PCIe Bus by an embedded switch IC, which has 5.6 Gbps of bandwidth to achieve wire-speed performance. Moreover, it operates independent of the host system. Subsequently, if the host system locks the Gigabit uplink port to the host will no longer function, however, the eight Fast Ethernet ports will continue to function normally and pass data among themselves like a normal switch so long as power/GND resides on the motherboard.
The AEI-e810C is an ideal networking solution for multiport industrial and fault tolerant applications!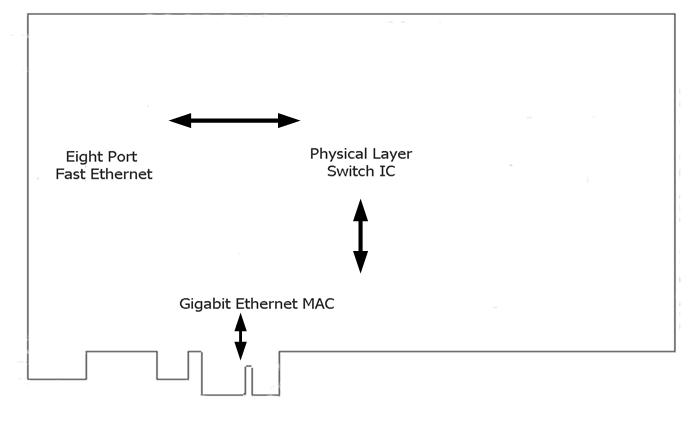 IEEE 802.3af Power Over Ethernet (PoE) Switch - Optional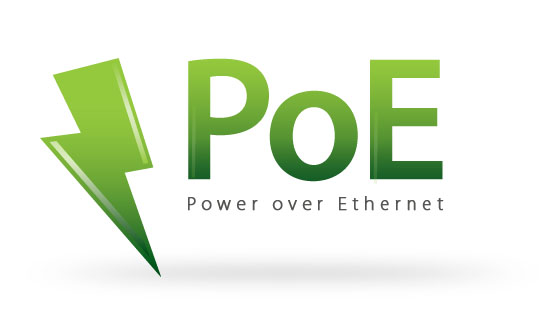 By using Power over Ethernet, installers need only run a single CAT5 or CAT5E Ethernet cable that carries both power and data to each remote device, therefore decreasing installation costs.
This AEI-e810C provides powered device (PD) discovery, classification, current limit, DC and AC load disconnect detections in compliance with the IEEE 802.3af & at standards. Moreover, other technical features include: over current protection and port shut down, short circuit detection and more.
The AEI-e810C supports PoE in two configurations:
A) Indoor AC/DC wall power Adapter Cable 220W
Input: Universal wall power 100-240VAC, 50-60Hz, 2.5-1.2A
Output: 48VDC @ 4.6A / 220W
Plugs into the PCI Bracket, and enables the controller to act as a PSE switch (Power Source Equipment).
Order Code: AEI-CBL48VDPOE
B) Mobile Applications - DC-DC Step-Up Converter 150W
Input: 12-24VDC (typical configuration is connected to vehicle battery)
Output: 48VDC 150W
Order Code: AEI-DCA19-48V
The 8 external Fast Ethernet ports are designed independently using IEEE standards for PoE. Each port automatically senses if a PoE capable PD (Power Device) is attached. If the PD provides appropriate handshaking, onboard intelligence enables 48VDC power on the individual port.
AEI Fault Utility:
This software utility identifies cable and connector faults, network faults, as well as Power Device faults; it will notify one or more email address or SMS text messages; and it will have a warning pop-up on the host system monitor.
This software utility resides on the host system. The utility monitors the attached IP cameras (or other IP Power Devices). When the network connection is broken, the utility will attempt to establish a network connection two additional times. If still unable to confirm the utiltiy will send a fault notification.
The utility also provides a mouse-clickable button on the GUI to cycle power ON-OFF-ON, and subsequently reset all Power Devices. This feature allows for a simply and easy remote resetting of Power Devices for both local and remote access users.
This utility is free with the purchase of an AEI-e810C, and can only be used on systems with an AEI-e410C or AEI-e810C controller installed.
24 Hour Restart Jumper Setting
This is an optional jumper setting on the AEI-e810C Intelligent Power Conversion Card, and not recommended or necessary when the PoE Fault Tolerant Utility is running. When this jumper is installed, PoE power is cycled ON-OFF-ON for 2-5 seconds every 24 hours of continuous operation. This fault tolerant feature ensures that all Power Devices are re-booted regularly to ensure no lock-ups. The utility can alternatively be configure to perform the reset weekly, or monthly.
Manual PoE Reset Switch
The AEI-e810C Intelligent Power Conversion Card includes a two-pin header for a manual switch in the event an OEM wishes to put a PoE Power Reset switch on their enclosure (SPST Momentary).
---
The AEI-e810C PoE configuration eliminates the need to run high voltage power 110-220VAC to remote PoE devices, and eliminates the need for standalone Midspan and Endspan PoE switches/injectors. Simply, there is no rat's nest of wire and peripheral devices, and a licensed electrician is not required for commercial installations.
Applications:
PoE servers and appliances that support VoIP Phones, Network Video Recorders (NVR, DVR, or HVR's), POS Terminals, wireless access points, etc.
---
SPECIFICATIONS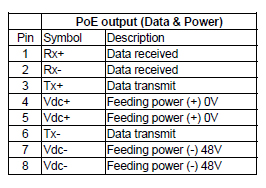 IEEE 802.3AF - Mode B
Part Numbers

p/n: AEI-e810C

PCIe (x1) 8+1 Embedded Switch
Includes RJ45(f) Octopus Cable
** No PoE Support.

p/n: AEI-e810C-PoEAFI
AEI-e810C with wall AC/DC Adapter Cable
Supports IEEE 802.3 af

p/n: AEI-e810C-PoEAFM
AEI-e810C with wall Mobile DC/DC Power Supply, and appropriate cable harnesses.
Supports IEEE 802.3 af



Connector
RJ-45(f) Octopus Cable
IEEE Standards
Eight External Connections
IEEE 802.3 (10Base-T Ethernet)
IEEE 802.3u (100Base-Tx Ethernet)
IEEE 802.3af PoE Mode B up to 350mA (15.4W) per port
IEEE 802.3au PoE Isolation Requirements
IEEE 802.3u Auto-negotiation
IEEE 802.3x Duplex and Flow Control
IEEE 802.3q VLAN (Call for further information)
IEEE 802.3p Priority Tagging.

Internal Connection to PCIe Bus
IEEE 802.3ab (1000Base-T Ethernet)
IEEE 802.3q VLAN
IEEE 802.3p Priority Tagging.
IEEE 802.3x Full Duplex Operation

PCI Express Slot
x1 compatible with x4, x8, or x16 slots
Speeds, Cable & Distance
Ethernet, 10Base-T (Cat 3, 4, 5 UTP)
Fast Ethernet, 100Base-Tx (Cat 5 UTP or better)

Distance up to 100 meters maximum

Auto-negotiation / NWay

Auto-negotiation between Full duplex and simplex operations AND between 10 Mbps and 100 Mbps.

Gigabit uplink operates at Full Duplex.

Internal
Diagnostic LEDs

Gigabit Ethernet MAC
10/100/1000
Activity

GigE PHY
10/100/1000
RX
TX

Switch
100/1000 (GigE Uplink Port)
COL
ACT

Fast Ethernet Ports
100Mbps
Link/Act
Full Duplex

POE on Fast Ethernet Ports
Each port has a blue POE LED that triggers when POE is active.


Bus Type
PCI Express 1.1 compliant
Driver Support

See the following hyperlink for downloadable device drivers, Diagnostic, and Management Applications.

Certifications
RoHS Compliant
FCC Part 15, Subpart B - Class A; CE; CISPR-22-A; CISPR-22-B, VCCI-A; CSA 22.2 No. 950-95; and CE compliant to: EN55024, EN50082-1, EN60950
Environment Specs
Temperature: operating 0C to 60C
Humidity: 0 to 90% non-condensing
Slot Type
PCIe x1 card edge connector
Compatible with PCI Express x4, x8, and x16 slots
MTBF*

125 Years

Dimensions
Universal Short Card 6.6" (L) x 4.2" (H)
Power Consumption


Add-in Card:
Estimated Maximum Rating (1879mA / 3778.8mW)
3.3V @ 453mA
1.8V @ 913mA
1.5V @ 241mA
1.05V @ 272mA
* Above does not include POE.

Optional Power over Ethernet (PoE)
48VDC POE power is sourced through an external wall AC/DC Adapter, which is then plugged into a power connector located on the front of the PC Bracket. Power is not sourced through the PCIe Bus.

IEEE 802.3 AF
Watts per port
Up to 15.4W per port
Amps per port
350mA per port
Auto Detect & Classification
Yes
AC/DC Adapter Characteristics
INPUT: 100-240V
50-60Hz, 2.5-1.2A

OUTPUT: 48VDC, 4.6A

Provided with AC/DC Adapter Assembly is a
North American 110V Wall Power Cable. Other Country assemblies can be purchased separately by contacting your local AEI Reseller.


The IEEE considers PoE to be low power

* According to Telcordia SR-332 Issue 1 Environmental condition – GB (Ground, Fixed, Controlled). Ambient temperature - 25°C. Temperature rise of 10°C above the system ambient temperature was assumed for the cards components.